Grill the perfect crispy smoky chicken drumsticks in the fire pit with the Chicken Leg Rack!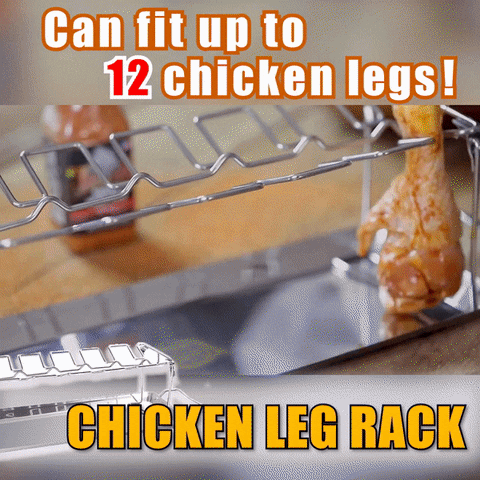 The Chicken Leg Rack is the only tool you need to grill a perfectly even cooked crispy chicken drumstick feast! Keep your cooking organized & taste an evenly cooked chicken every single time! 
The Chicken Leg Rack give you the opportunity hang every chicken drumstick evenly above the heat & achieve the perfect doneness for multiple piece of poultry, while in the same time keeping your grilling pit organized & clean!
It comes with a tray that captures every drops of juice flowing out from the tasty meat without causing any excessive fumes. Give your pieces of poultry maximum pure smoky flavor from the charcoal or flame!
The Chicken Leg Rack & the tray is made from high-grade stainless steel that is non-toxic & able to withstand intense heat, perfect in a barbeque pit! It is certainly strong & durable with a long service time. making it a totally practical rack!
FEATURES-:

Hangs Chicken Drumstick Equally
Cooks Crispy & Even Chickens
Allow Juice to Drip without Causing Fumes
Made from High Grade Stainless Steel
Durable & Practical
Suitable for Chicken Drumstick, Chicken Wings, Vegetables & All Sorts of Meat
Easy To Clean
PACKAGE INCLUDES-:
1 x Chicken Leg Rack
1 x Metal Tray