Pneumatic Degumming Disc!
FEATURES:-
Fast and efficient: Connect the included drill adapter to your rubber and home drills to quickly remove tanning vinyl stickers for cars, boats, RVs, trucks, trailers, buses, bicycles, motorcycles, household appliances, etc., pinstripes or pinstripes, bumper stickers and other adhesives. Suitable for a variety of paints, chrome, windows, metal surfaces and automotive packaging. Amazing results in a few seconds.
Safe to use: Do not scratch or damage acrylic enamel or polyurethane paint. Apply light pressure on the top of the decal, and work repeatedly until it is removed. Use a mild solvent to remove excess glue and residue. Do not use on painted surfaces.
Easy to use: The assembly includes an electric drill adapter for easy installation on any home or pneumatic drill.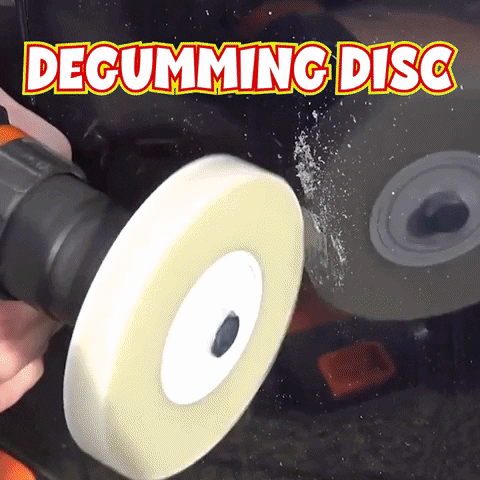 USAGE:-
Start by washing the area with water and soap to remove dirt, grease, etc. from the area.

Attached the arbor to the rubber wheel and tighten.

Attached the arbor to the drill chuck and tighten.

Use Electric or Air powered drill with speeds from 1500 to 3000 RPM for best results.

Start on the top side of decal. Start tool just before engaging workpiece.

Continue to apply light to medium pressure moving side to side.

NOTES:-
As stated above, the RPM of the drill you are putting the eraser wheel in should not exceed the limit indicated on the wheel (4,000 RPM) as it could cause the eraser wheel to break down quicker or break apart. Safety goggles are recommended.
As with any type of product like this, it is recommended that you test a small area before doing the entire area to make sure it will work as expected. Especially on older, light-colored finishes.
Not recommended for use on lacquer paints, non-OEM finished surfaces, acrylic, lexan, plexi-glass and soft plastic substrates. Not effective on some reflective tapes.
SPECIFICATIONS:-
Size: As shown in the picture

Width: 20mm

Material: rubber

Application: Quickly remove residual glue such as stickers and labels 
PACKAGE INCLUDES:-
1 x Rubber Eraser Wheel

1 x Arbor Adapter