CARING FOR THE AIR SYSTEM THAT FEEDS YOUR BRAKES  
Air brake system plays a crucial role in heavy-duty vehicles on the road. Such as trucks and trailers. The normal operation of the system ensures a safe and effective stopping. The emergency and supply lines that stretch between a tractor and trailer offer a colorful reminder that compressed air is the lifeblood of your brake system. That would make the compressor your air system's heart, obstructions in the air lines like plaque that forms on an artery wall.
Choosing proper hose lengths and quality from a parts counter will clearly make a difference here. High-quality air lines include multiple plies, which will make a difference in its ability to withstand forces such as temperature, road salt, and road debris.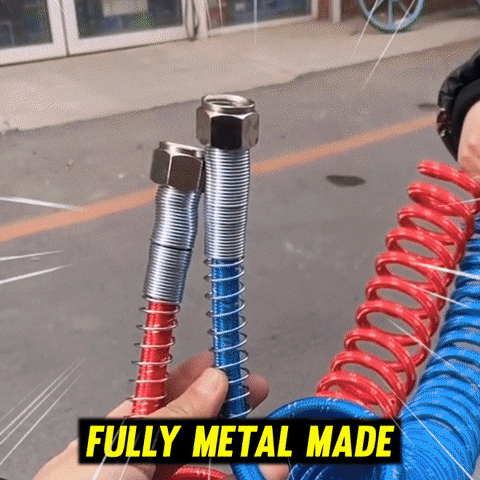 Double Reinforcement Air Hose act like springs, stretching out as tractor and trailer separate and retracting as they come back together. The hose coil design eliminates dangerous dangling and reduces the risk of damage.
FEATURES: 
1. Easy connection
2. Fast recovery after extension
3. Flexible in cold weather
4. Good resistant to shock and abrasion
SPECIFICATION: 
1. Color: Blue and Red 
2. Length: 7.5m (24.6 Feet)
3. 
Working Pressure: 225 Psi
4. Temperature Range: -40°C 
to 100°C
 /  -40.0 °F to 
212.0 °F
5. Specification: DOT
PACKAGE INCLUDES: 
1 Pair = 1 x Blue Air Hose and 1 x Red Air Hose