Simply apply and rotate!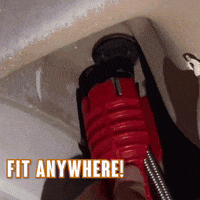 Faucet & Sink Remover allows quick and easy rotation for replacement of connected supply line nuts or mounted nuts from faucets.
As a Balance Meter, you can makes it easier to find a balance point. Faucet & Sink Remover can be easily judged whether it is compact or loose, making installation easier. It can also be applied to all objects that need to find a balance point, such as hanging objects (strokes, wall-mounted TVs, pendants, hooks, etc.)
You can turn hard-to-reach mounting nuts on Faucet & Sink Remover, sprayers and ball cocks Open slot style allows for easy access over existing supply lines Remove the wrench head through a simple match, you can use alone, compact and lightweight, very easy to carry.
When you start loosening the nuts on the faucet, the plastic of Faucet & Sink Remover is hard and rigid enough to twist and the nut. Better than basin wrench. Put a rod into the other head, span it to tighten or loosen the nuts of sink or others without scratching the chrome.
FEATURES:
Material : Metal & Plastic
Color: Red
Style: 8 In 1
Length: 260mm/10.24"

Suitable For: Toilet Bowl/Sink/Bathroom/Kitchen Plumbing and more.
Package Included:
1 X Faucet & Sink Remover