BASIN, FLOOR DRAIN OUTLET BATHTUB AND OTHER HAIR DIRT CLOGGING CAN BE EASILY SOLVED
Tired of slow draining bathroom sinks? Sink drains are prone to getting clogged between the sink and drain trap with hair and gunk that liquid drain cleaners can't remove. For faster draining bathroom sinks use the Sewage Cleaning Rod.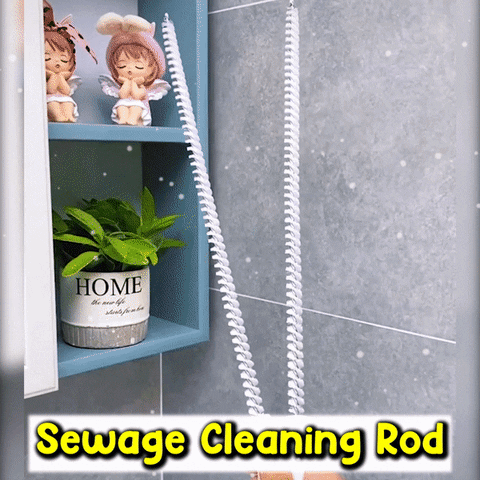 This brush is a uniquely designed narrow brush that easily goes into sink drains to clean and pull out build-up of hair, grease and grime quickly and effectively. The durable resilient polyester bristles are stiff enough to grab the hair and gunk without damaging the drain. 
Specially selected bristles have a spiral pattern to better grab and hold hair and gunk for removal. Engineered with rust resistant steel wire that is flexible and sturdy enough to push the hair while pulling it from the drain and easier to clean deep curved pipes. The handle made of high-quality ABS material, in line with ergonomic design, it is comfortable to handle.
FEATURES: 
1) 
Spiral brush design
2) Bendable

3) Long brush design

5) Wide applications

SPECIFICATIONS: 
1) Material: iron wire and nylon bristles.
2) Length: about 45 cm/17.72 inches.
3) Suitable for: sink, water pipe, drain pipe.
PACKAGE INCLUDES: 
1 x Sewage Cleaning Rod