BEST BATTERY TERMINALS CONNECTOR HELP YOU MAKE A CONNECTION WITHOUT THE SPARK!  
The best battery terminals can improve the performance of your vehicle's convertor and help you achieve higher speeds. If you notice that your car isn't accelerating, take a look under the hood and you may find the culprit, the battery terminals may be corroded, and that could be the main reason behind your ride's insufficient horsepower. Before investing in a new battery or alternator, make sure you have good contact between the battery posts and the cables.
This set of Spark-Free Battery Terminal Connector is designed to meet the needs of a high-corrosion environment like that found on the water. The terminals themselves are made from brass and the fasteners are from stainless steel to offer maximum protection from water and battery acid, while still delivering the electrical connection needed to run your electronics.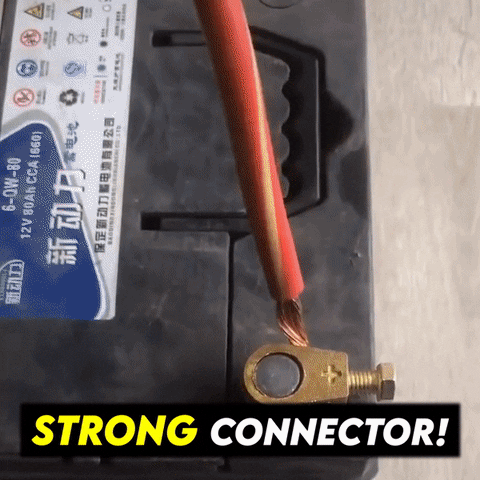 While the marine-grade hardware attaches the terminal to the battery, an epoxy-coated and color-coded wingnut with stainless steel lock washer and a one-inch bolt make removing and refastening your wiring connections quicker and easier than a more permanent style of connector. 
FEATURES: 
1. 1 pair of negative and positive copper battery cable terminal. 
2. 1 pair of acid-resistant pads.
3. Battery terminals connectors are made of pure copper. 
4. Better corrosion-resistance.
5. Used for battery extension, parallel connection, and ground connection.
6. Battery terminals connect battery posts and copper wires directly, reducing current loss and easier installation.
PACKAGE INCLUDES: 
1 pair of Positive and Negative Copper Battery Terminal Connector